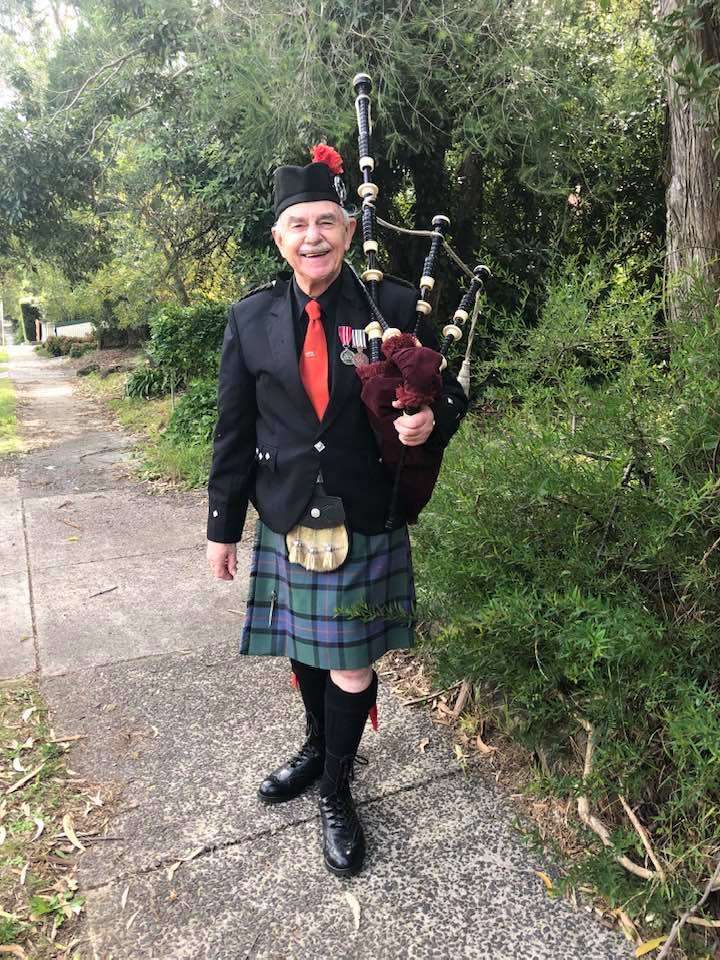 Clan Fraser is the Honoured Clan for 2023
Don Chitts
Commissioner of Clan Fraser Society of Australia
Don Chitts was appointed Commissioner of the Clan Fraser Society of Australia in 2011 by Lady Saltoun, Chief of all of the name Fraser, endorsed by Lord Lovat, Chief of the Frasers of Lovat. Prior to that, in 1997, when the existing Commissioner was unable to attend, Don represented Australia at the 4-day Clan Fraser Gathering at Castle Fraser in Aberdeenshire. He has met both Lady Saltoun and Lord Lovat on a number of occasions, and attended the general Homecoming Clan Gathering of 2009, where he was invited, as Lady Saltoun's guest, to the Council of Clans in Scotland's Parliament House.
In December of this year, Don and his wife, Maimie, will celelbrate their Diamond Wedding Anniversary. They met at the Scottish Country Dancing in Dundee (Scotland) and have two sons; Simon Fraser Chitts who, with his wife Tricia, lives in the Castlemaine area and Hamish Angus McGregor Chitts who, with his partner KC, lives in the Brisbane area.
Most of Don's interests have something to do with Scotland. He is a Life Member and, until recently, was Pipe Sergeant of the Ringwood Highland Pipe Band, having been a member when it was still the Lilydale Pipe Band. Back in the days of Mayor Robin Gardini, when a dispute arose and all but he and Rob MacKay had resigned, the pair of them invited the feuding parties to a meeting with the Mayor. There they managed to settle their differences and the band was saved. Don has also piped at Remembrance services of the Blackburn RSL for many years, for which he received a Certificate of Appreciation, signed by Bruce Ruxton, then President of the Victorian RSL.
Maimie and Don are Life Members of the Mitcham Scottish Society, where Don taught Scottish Country Dancing for 17 years. Both have served there as President and in other Committee positions for many years. Don has also served as President of the Melbourne and District Branch of the Royal Scottish Country Dance Society, and recently received from Edinburgh the Branch Certificate of Appreciation, signed by the RSCDS President.
Finally, Don is very interested in Scottish history, and is in some demand to recite Burns' Address to a Haggis.